Sirius Observatories has been manufacturing the highest quality, marine-grade fiberglass observatories since 1986. You'll find Sirius observatories on every continent, in every kind of weather. For the most proven, longest lasting observatory domes with the best customer service, it's got to be Sirius!
Four sizes to choose from. Dome only, or complete with walls. Click on each photo for more information.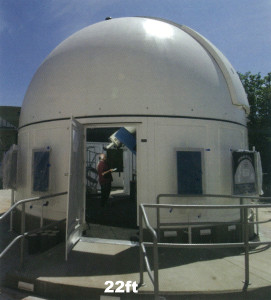 All observatories are pre-assembled in the factory and tested before crating and shipping. The modular design makes assembly easy with user friendly instructions and all components numbered and labeled. The marine-grade fiberglass design provides clean, even flow lines with an easy to maintain gelcoat finish. The staff at Sirius are always willing to provide support, long after the warranty period has expired.

Click here to watch a video to see the premium quality construction and easy user assembly of Sirius Observatories


For more information or to order — email: Sirius [at] BeckstromObservatory [dot] com — phone: 810-853-STAR (810-853-7827)


For customers outside the United States go to http://siriusobservatories.hopout.com.au/